Croatia has been a hit destination for the last few years, both for tourists and for all those who want to enjoy the land of extraordinary natural beauty, to feel the meaning of slow living and Mediterranean mentality. Small enough, and yet with great opportunities and natural diversity, everyone can find in Croatia a little bit of paradise for themselves. Choose a luxuriously decorated apartment or house and wake up happy and relaxed every morning because you live in a land of a thousand islands, a warm climate and preserved nature. If you decide to buy real estate on the Adriatic, you will enjoy the view of the beautiful sea and islands, and each day will end with the most beautiful sunset, which was admired by the legendary film director Alfred Hitchcock.
Experience the most beautiful days and create the best memories in Croatia. Wake up on the Adriatic, have lunch in rustic Lika, and for dinner choose one of the luxury restaurants in the metropolis – Zagreb. If you prefer nature, there are numerous national parks, nature parks and picnic areas that will not leave you indifferent, and which are only a few hours drive from the coast. Healthy and organic Mediterranean diet, which is on UNESCO list of intangible heritage, together with the fresh air and the sun that shines for most of the year, will contribute to your health and vitality.
Despite two years of the coronavirus pandemic, the real estate market in Croatia has remained stable, housing construction continues to grow, and apartment prices are rising more and more every year. Attractive location and good connections with flights and boats are probably the reasons why last year the highest price per square meter was recorded in Split, as well as Zadar and Zadar area which are in great demand. As for Zagreb, we see increase of buyers interest in real estate. It is necessary to emphasize the fact that all these cities are only two hours flight away from all major European cities (also a lot of European cities can be reached in less than 2 hours of flight). This proximity and location in the heart of Europe gives you a quick and easy arrival and departure wherever and whenever you want. There are also numerous top-quality marinas, where you can rent or store your boat and embark on a sea adventure at any time.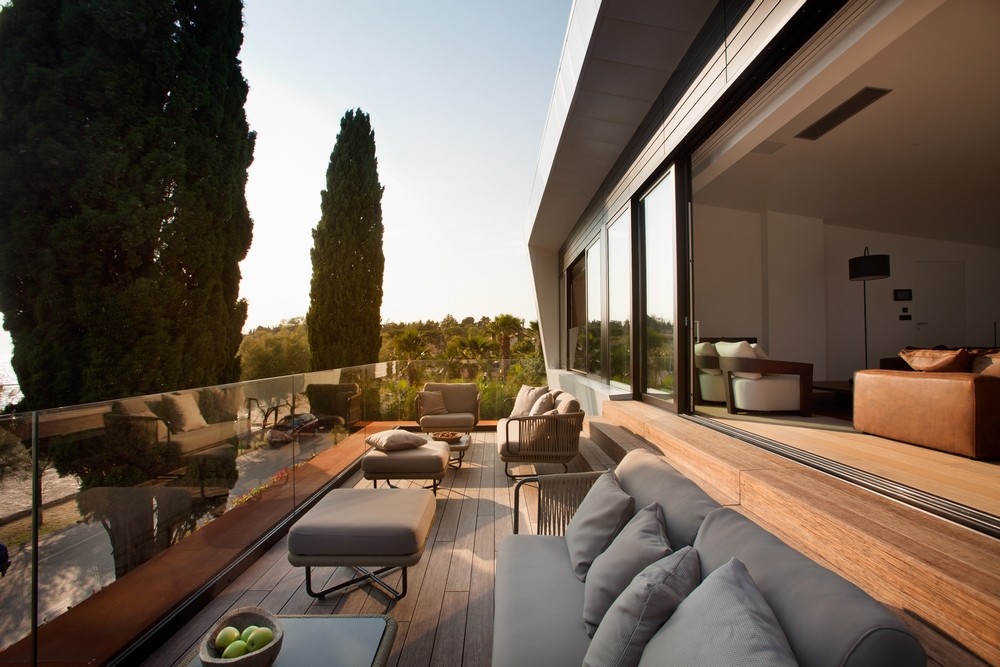 Our properties are situated in attractive locations, and we all know that location is one of the most important factors when buying an apartment or villa. Great attention is also paid to interior design, especially when choosing designer furniture and decorating details. Many villas and apartments have a swimming pool or jacuzzi where you can relax and enjoy, as well as additional facilities such as a fitness room, sauna and summer kitchen that will contribute to your relaxation and entertainment. Also, parking spaces are provided so you don't have to worry where to park your car.
Because of all these benefits, the London Post declared Croatia the number one country for investment a few years ago, and shortly after that, another recognition arrived. Two Croatian cities – Zadar and Dubrovnik have been included in the list of the most desirable European cities to live in for those who like to stay outdoors, which was published on the well-known portal Money Inc. The advantages of living and investing in real estate in Croatia have been recognized by one of the leading Austrian magazines for interior, design, and real estate Falstaff Living. They included two Best Real Estate properties in an article dedicated to real estate in Croatia!
It is a prestigious international magazine that covers topics from the world of architecture, interiors, design, premium properties and luxury lifestyle. Magazine is followed by readers from Austria, Germany, and Switzerland. This issue of Falstaff Living Residences is dedicated to luxury real estate and describes Croatia as the Florida of Europe. In an article about Croatia and the exceptional real estate that can be found in Croatia, they write that despite of the crisis caused by the pandemic, Croatia is a country suitable for living and a country worth investing in. Proof of this is the constant rise in real estate prices. Due to the investment security, many choose to invest capital in this area of the economy. Buying real estate can bring you passive income through renting, and if you don't want to, you always have real estate where you can live. If you invest in real estate and in renovation and furnishing of the property, the price will grow further. You can choose to buy a property in a tourist attraction area. Renting your property to tourists can be a significant source of income throughout the year. In addition, you can always leave certain periods of year to yourself and go on a well-deserved vacation.
It's up to you to decide whether you want an apartment by the sea or a house in an attractive location, and our top experts can help you choose. Check the offer of the most exclusive real estate on the Adriatic sea, contact us and enjoy.